Top Process Mapping Tools & Software: A Comprehensive Guide for Greater Efficiency
What are process mapping tools?
Process mapping tools are software apps businesses use to visualize or model processes and workflows. Process mapping tools make the flow of work and information visible, and help users understand the relationships between people, processes, and systems.
Start building more efficient workflows with the
Citizen Developer's Guide to Workflow Optimization
Download now
What are the benefits of using process mapping software?
The primary benefit of process mapping software is making the flow of information and activity visible. This helps teams identify optimization opportunities and zero in on problems such as bottlenecks, silos, and unstable handoffs. Other benefits include:
Reduces risk
Process mapping makes it easier for teams to identify problems with their processes. For example, steps that produce a high rate of errors, bottlenecks, or poor handoffs. Other potential risks include data leaks or silos. Process mapping may also help identify instances of shadow IT.
Helps strategic planning
As visibility into processes increases, teams are able to make more informed decisions to guide their business strategy. Process mapping provides deeper insight into the way work is organized and helps teams gauge efficiency with accuracy. As a result, decisions can be made with confidence.
Provides documentation
Processes that are mapped out can also be documented. This is important because it provides a reference point that can be used to facilitate knowledge transfer and continuity, as well as simplify training processes. Documented processes can also be replicated and scaled more easily.
Streamlines processes to enhance efficiency and productivity
With a complete step-by-step visual of a process or workflow, process owners have an overall view of the work, the start and end points, and the actors or resources needed to advance workflows and complete processes.
That also means that they have total insight into any redundancies, inefficiencies, or bottlenecks that may inhibit progress or impact deadlines. Process mapping makes it much easier to spot ways to improve overall efficiency and productivity.
Improves communication and collaboration
In addition to spotting work bottlenecks, process mapping makes it possible to spot where key communication or work handoffs fail or are lacking. With a complete picture of their workflow, teams can track how communication flows, identify when it's not flowing, and figure out solutions to the problems.
The first true no-code solution built to enhance process management,
automation, and optimization
Meet Pipefy AI
Features to consider in process mapping tools
There are a few different types of software or tools that can be used to create a process map, including workflow management software, process management software, and business process management (BPM) software.
Process maps can also be created without software, by using a drawing app, whiteboard, or pen and paper. People who create process maps this way use flowchart symbols to represent the elements of the process.
If you decide that a digital tool is the right choice for your business processes, below are six key features to keep in mind as you explore your options.
User friendliness and ease of use
This is the most important feature to consider when searching for a process mapping tool. After all, if you can't figure out how to use the tool, then what's the point in getting it? A no-code with a user-friendly, visual user interface is ideal for all users — not just the tech savvy. No-code means that no coding is required, making it a great option for business users without any technical coding knowledge.
Customization and flexibility
In addition to usability, consider an option that is also easily customizable and flexible to your specific process needs, whether that means featuring a certain type of visual layout, accessing flowchart symptoms, or naming/assigning steps as you map your process. You'll also want a tool that can adapt to any future changes to the flow of work, steps, assignees, or anything else that makes sense for your process.
Collaboration capabilities
Another feature to look for is seamless collaboration. If you're working with a large team, you'll need to be able to share process maps or loop in collaborators as you build out your process. Avoid any tools that may make seamless communication difficult.
Integration with other systems
Process orchestration is the coordinating, synchronizing, and monitoring of multiple automated workflows in an organization. Using a tool or software that easily integrates with your existing tech stack simplifies this process and makes orchestration easy. Not only is information more connected, it also guarantees that data flow is reliable and accurate which, in turn, reduces errors, enhances visibility, increases efficiency, and leads to better decision making.
Data analysis and visualization capabilities
In addition to mapping processes, it's also beneficial to track process performance. Consider using a tool or software with customizable dashboards to extract, visualize, filter, and evaluate all your work data to help you continuously improve your processes.
Scalability and performance
Processes change, and so will your business needs. A key feature to consider as you shop for process mapping tools is adaptability. Consider tools that are capable of growing and changing with your processes and that make it easy for business users — both technical and non-technical — to quickly scale changes or updates.
In addition to this, look for a tool that has a 99.9% or higher uptime.
7 best process mapping tools and software
1. Pipefy
Features
Pipefy is a no-code business process automation (BPA) tool that supports process mapping with its flow visualization features, like kanban board views. The advantage of no-code BPA is that it enables non-technical users to access many of its features easily, without coding knowledge. This includes building and modifying processes and workflows using an IT-sanctioned set of tools.
Pipefy is adaptable to any department — including HR, IT, and Procurement — and can be used to create and optimize any of the types of business processes. Pipefy combines process visualization capabilities with automation, optimization, and orchestration features that enhance the existing tech stack and improve efficiency.
Pipefy's latest feature, Pipefy AI, harnesses the power of AI-enhanced process management to effortlessly build workflows and reveal new insights in a matter of seconds.
Limitations
While Pipefy is a great option for building automated workflows and centralizing communication, documents, and data, it's not the ideal solution for modeling processes. Pipefy AI use is currently limited and not widely available yet.
2. Lucidchart
Features
Lucidchart is a visual workspace for creating illustrations of processes, roadmaps, and network diagrams. Other features include helping users scale cloud infrastructure, organizing scrum teams, and mapping data flows.
Lucidchart also offers data linking, auto-visualization, integrations with Microsoft Office and Google Workspace, and business process documentation automation.
Limitations
No desktop apps, customers report that features, functionality, and interface is not as advanced as other process mapping tools, and Lucidchart's free plan limits users to only:
3 editable Lucidchart documents
Unlimited diagrams with a limit of 60 shapes/objects per diagram
100 templates
3. Microsoft Visio
Features
Microsoft Visio is a visualization tool that can be used to build flowcharts and process maps. It can also be used to create organizational charts, floor plans, and network diagrams.
Visio is available to all Microsoft 365 commercial subscribers. Features dozens of premade templates, starter diagrams, and stencils that can be used on Visio desktop and web app. Visio is highly accessible for everyone with features like Narrator, Accessibility Checker, and high-contrast support.
Microsoft 365 subscribers can view, print, and share diagrams and insert comments on the go. The web application is always up to date and new versions are automatically updated. The desktop version automatically generates org charts from data sources like Excel, Exchange, or Microsoft Entra ID.
Limitations
Limited integrations with tools or apps beyond the Microsoft Suite, data linking is only available through the Visio desktop, and limited accessibility for non-Windows users. Visio Web Access in SharePoint (in Microsoft 365) was retired on February 10, 2023.
4. Creately
Features
Creately offers users similar capabilities and features to Lucidchart. It is a visual workspace that helps users plan, execute, and capture knowledge. Creately allows users to create visualizations from tables and improves collaboration. Other features include task management and diagramming. Key features include:
Mobile app for real-time updates
70 types of diagramming standards
8,000+ professional templates and 200,000+ examples
Hand drawing and markup support
Links and connectors for navigational flows
Drag and drop items from any data-source to canvases
Attach collaborative notes, files, and data to anything
Limitations
Free plan features and integration options are limited.
5. Wondershare EdrawMax
Features
Edraw Product Lines includes various diagramming programs that can help you create business and technical diagrams that document and organize complex ideas, processes, and systems.
Wondershare EdrawMax is the product lines' all-in-one diagram software that includes a library of diagram types to help users create their visualizations. It is used for strategic planning, visual communication, collaborative learning, and UX/UI designing. Access more than 280 diagram types, 1,500+ built-in templates, and 26,000+ symbols to meet any visual needs.
EdrawMax recently rolled out AI-powered features like AI Diagramming, AI Chat, AI Drawing, AI Analysis, AI Copywriting, and AI OCR.
Limitations
No free plans or features are available, and the service may not be ideal for non-technical users.
6. Cacoo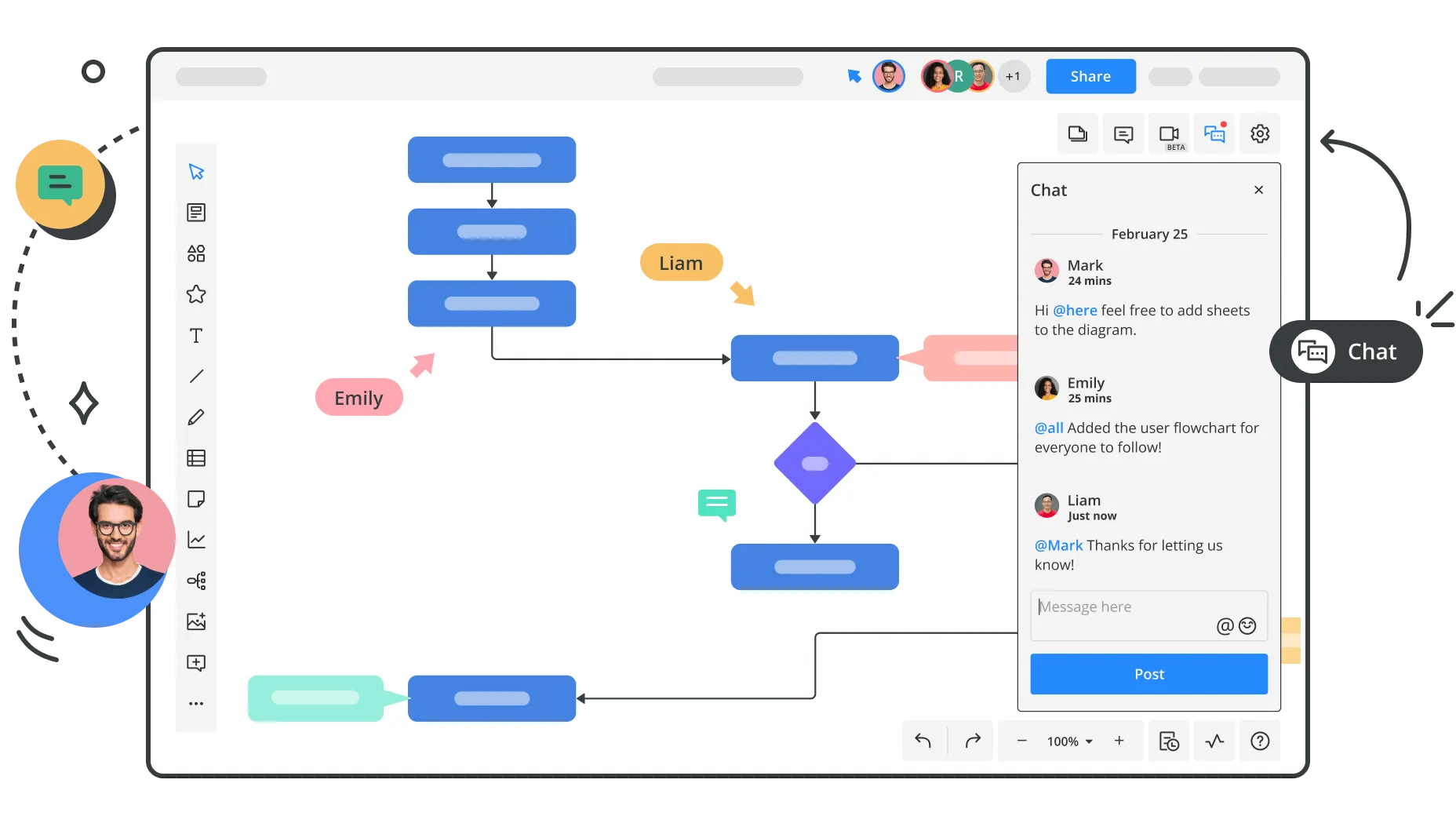 Features
Cacoo is an online flowchart and diagramming tool that can be used to make flowcharts, wireframes, org charts, mind maps, ER diagrams, network diagrams, and venn diagrams. It is collaborative by design and the diagrams are easily shareable.
Limitations
Limited integrations. Free plans don't include 1:1 online training sessions (also applies to Pro plans) or revision history access and exporting applies to PNG files only.
7. Miro
Features
Miro is a highly customizable and flexible process mapping tool and visual workspace for distributed teams of any size. With Miro, access features to develop or achieve product development workflows, workshop and asynchronous collaboration, diagrams, process maps, content and data visualizations, and visual project management.
With Miro AI, teams can explore new topics and align around a single idea with AI-powered mind mapping, idea, and insights generation.
Limitations
Limited integrations for more robust collaboration, and some customers report a learning curve which makes the product difficult or confusing to use.
Simplify process mapping with Pipefy
Process mapping brings control and visibility to all types of business processes. It's an important part of a broader process management strategy that helps reduce risk, improves efficiency, and builds alignment between business activity and business goals.
Pipefy's no-code BPA supports process management with automation and process visualization features that make it easy to build, optimize, and scale all your processes, no matter how simple or complex.
See why more businesses trust Pipefy to automate and optimize their processes
Pipefy BPA
Senior Writer at Pipefy, where I focus on helping businesses manage workflows, optimize processes, and deploy automation. I'm also a ghost story aficionado who listens to more Enya than anyone should.
Receive our latest posts in your inbox